The Transit Center
February 11, 20150 | By: Customer Service Mgr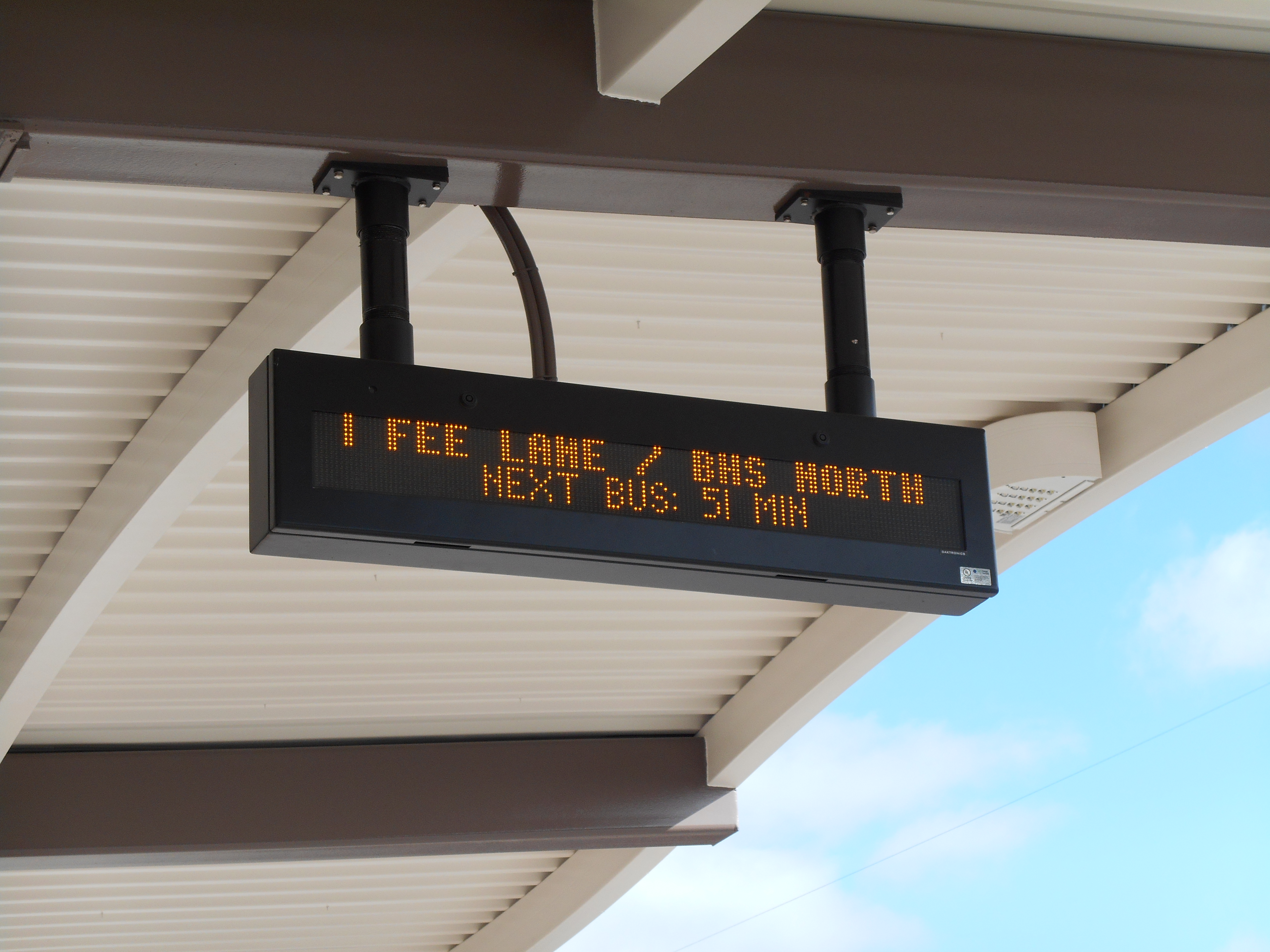 Opened in August of 2014,  the Transit Center has greatly enhanced comfort and convenience for riders when using Bloomington's award-winning public transportation system. Located downtown at the nexus of two major arteries, North Walnut and East 3rd Street, passengers have easy access to the heart of downtown. Buses park off the street, making for safe boarding and exiting. Click HERE to see a diagram of the bus parking area.
The new facility features a number of amenities that make using public transportation safer, more secure, and more comfortable than before:
Larger climate-controlled indoor waiting area complete with public restrooms, plenty of seating, and pass/ticket sales area
Real-time bus arrival information, large screen monitor showing real-time map locations of all buses
Wi-fi connection
Canopied outdoor waiting areas with digital LED displays at each bus berth with predicted arrival times for each bus,
Coming soon: outside large screen monitors in kiosks with real-time map locations of all buses
Artistically designed benches, bike racks, and a wall sculpture by local artists.
Bike lockers, surveillance cameras, trash receptacles, planters, landscaping, fencing, and detectable warning pavers.
The facility has enhanced downtown Bloomington with its limestone facade, art installations, and large glass windows. In an effort to maintain our commitment to the environment, the project is pursuing a LEED Silver certification for the new facility featuring the following sustainability elements:
Redevelopment of an urban brownfield site
Use of pervious paving materials to reduce stormwater runoff
Diversion of more than 50% of the construction waste from landfills
Use of roofing and paving materials that will minimize heat island effect
Use of energy efficient light fixtures to reduce nighttime light pollution
Use of native vegetation to minimize water use for irrigation
Use of high efficiency plumbing fixtures to minimize water usage
Use of heating and cooling systems which do not use harmful ozone depleting CFC refrigerants that contribute to global warming
Use of building materials that contain recycled content
Use of limestone from the region
Selection of wood products from certified forests
Implementation of recycling on-site for collection and storage of paper, cardboard, glass, plastic, and metal
Use of low and no-VOC materials in building finishes
Provision of bike racks and bike lockers
Use of high efficiency lighting and electrical products
Use of similar brick color, texture and medallions  in south landscaping walls to match the adjacent historic Coca Cola Building.
The building includes a large multipurpose room used for employee training, meetings, and Way To Go transit training for passengers new to the bus system. The second floor houses City and County 911/police dispatch offices with uniformed police personnel who access the 911 dispatch center passing through the transit passenger waiting area providing a visible police presence.
We look forward to BT's continued strong presence in downtown Bloomington and our new Transit Center will be our downtown home for the next 30-40 years.
Like us on Facebook to see photos of the new terminal throughout its various phases of construction.