Service Scenarios — 1 & 2
Bloomington Transit and IU Campus Bus are considering options to improve bus service for current and future riders in Bloomington. The maps below show two potential service scenarios for each bus system. For more information about the scenarios, please see the service descriptions at the bottom of the page.

We've gathered your feedback on Service Scenarios 1 & 2 and we are now developing Service Scenario 3, based on your comments. Stay tuned!
BT Scenario 1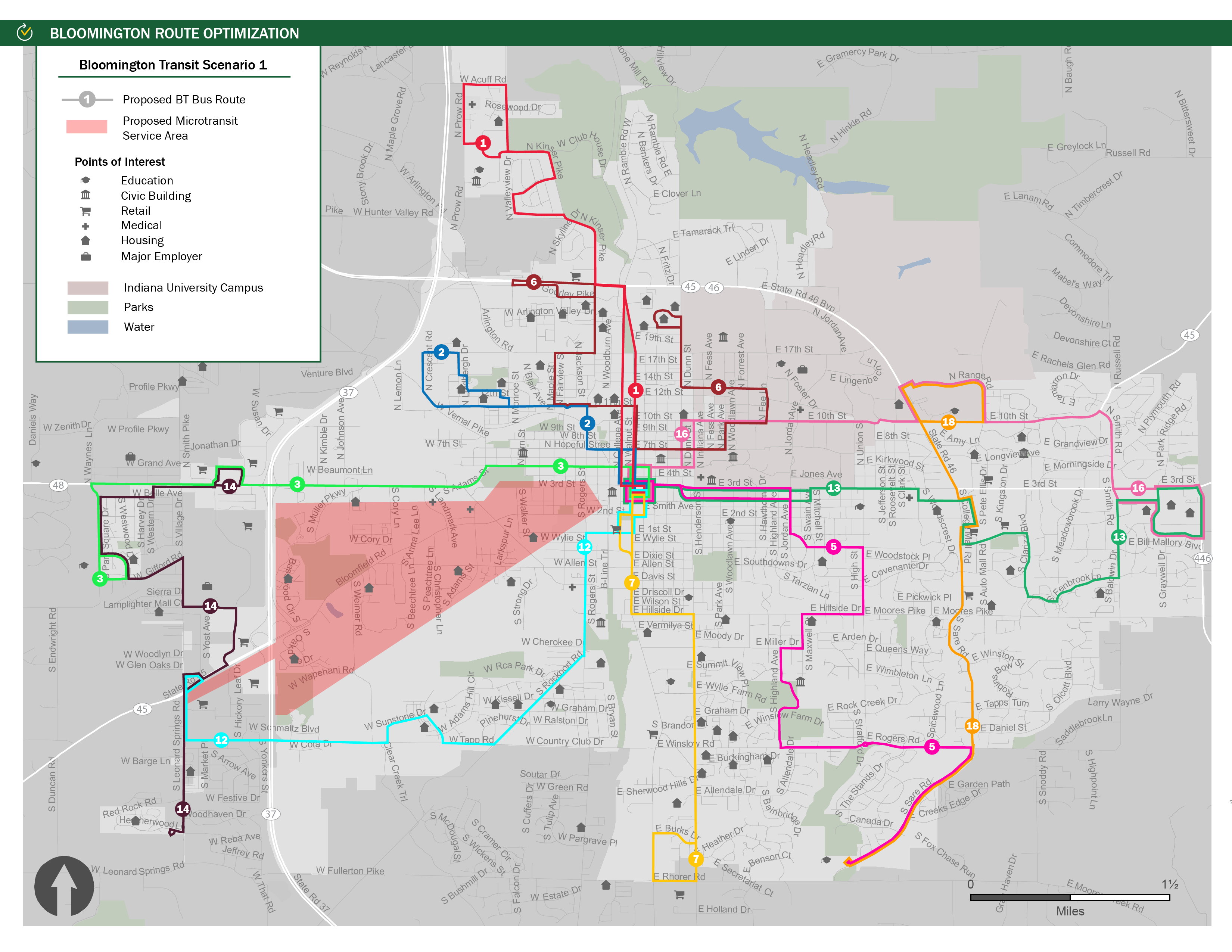 BT Scenario 2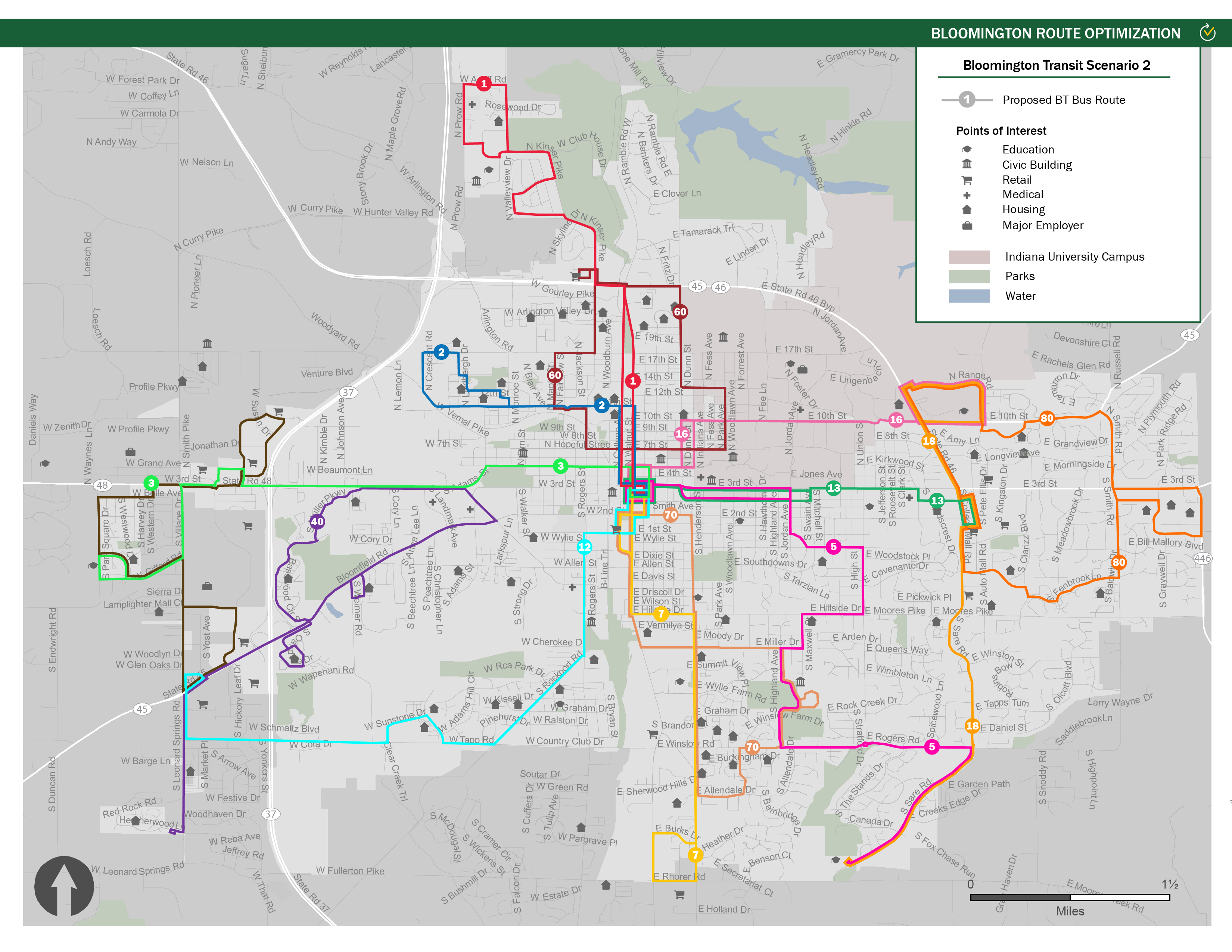 IU Service Scenario 1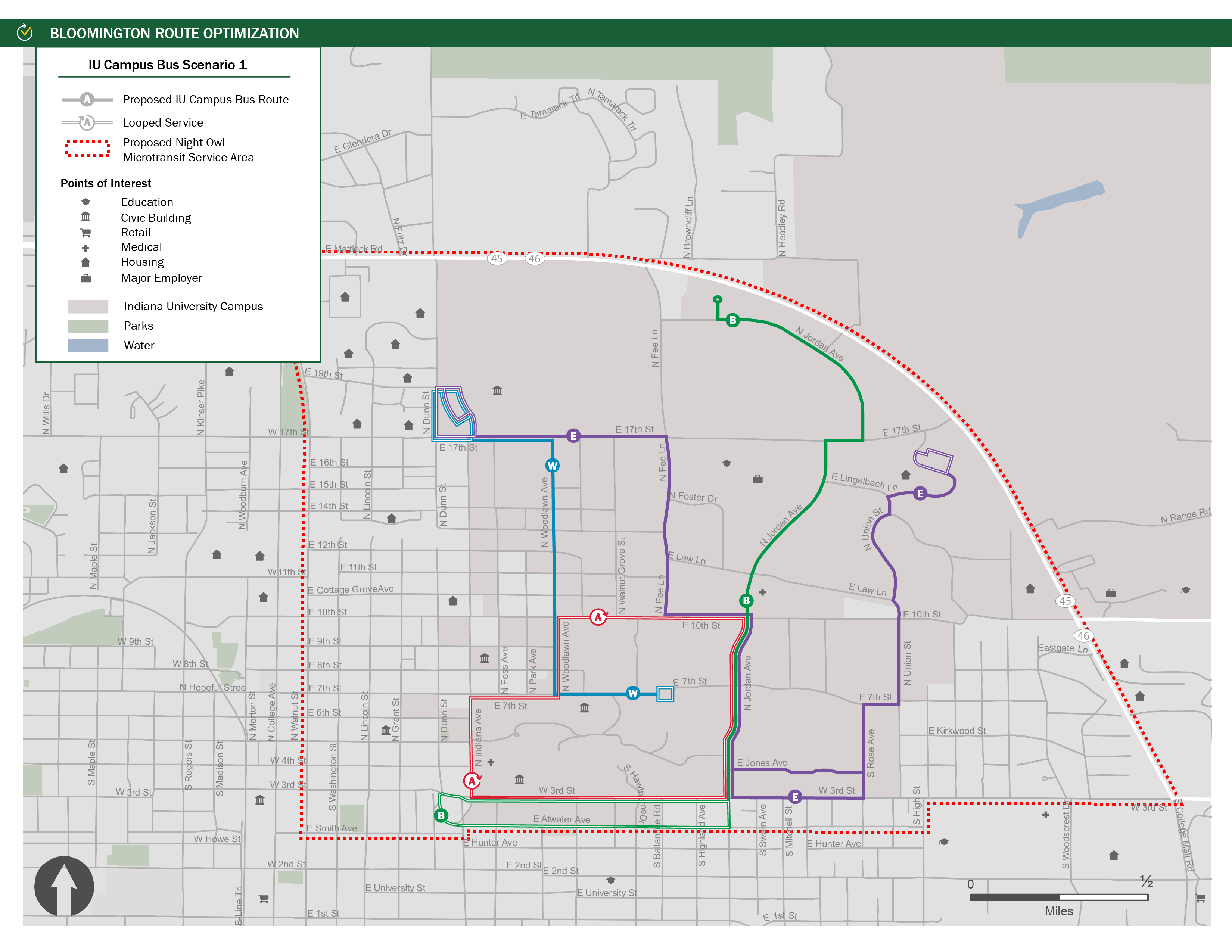 IU Service Scenario 2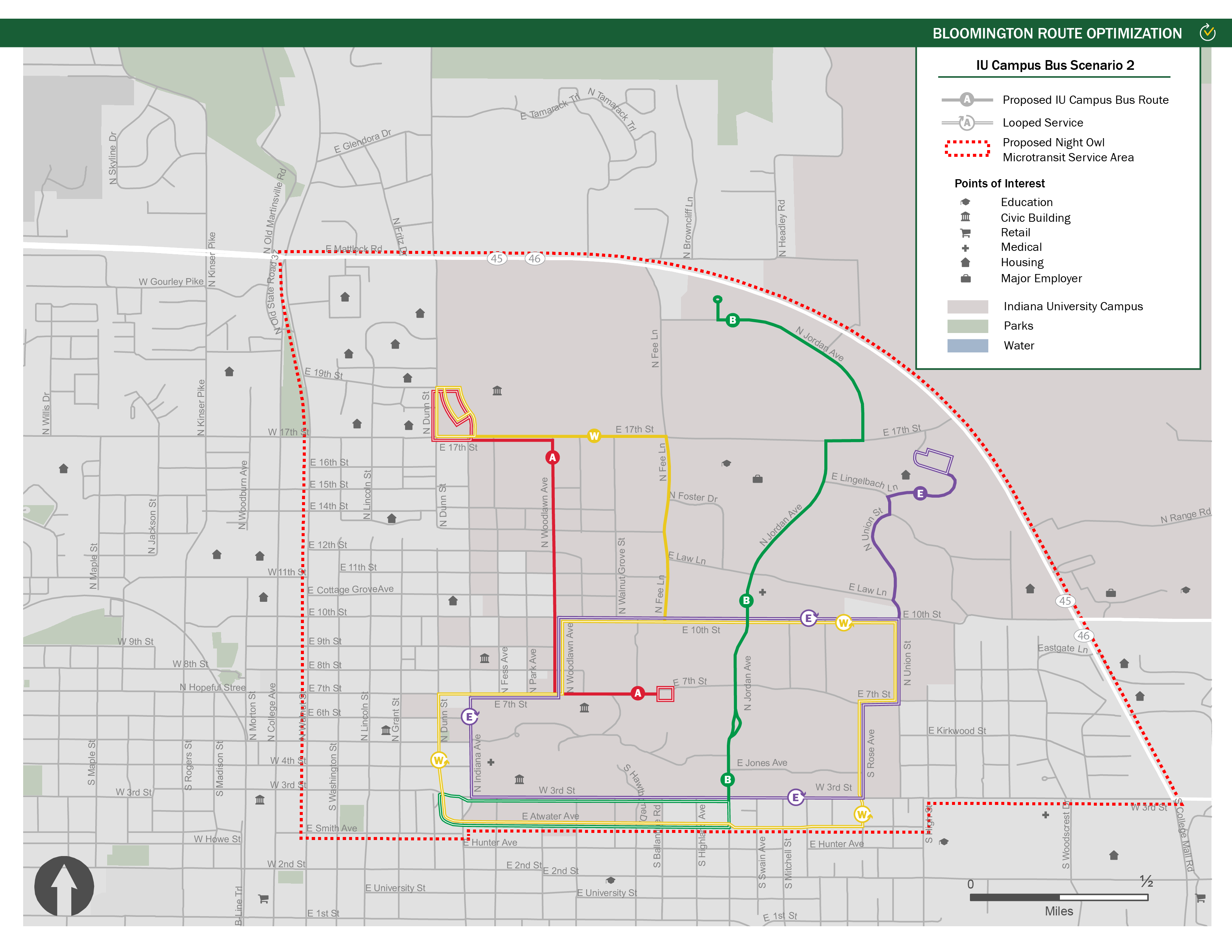 .zip file–Service Scenario maps
Bloomington Transit – Scenario 1 Summary
Route 1 – Streamlined version of the current Route 1 North from downtown to Bloomington Meadows Hospital via College Avenue and Walnut Street
Route 2 – Streamlined version of the current Route 2 West, with service from downtown to Crescent Road and Bloomington Housing Authority properties. Would no longer serve Blair Avenue, Maple Street, or 17th Street
Route 3 – Direct service from downtown to Orchard Glen Apartments via 3rd Street. The route would cover the majority of the current Route 3 East
Route 5 – Similar to the current Route 5, operating between Sare Road corridor and downtown. New route would operate on Highland Avenue/Maxwell Street in place of High Street between Rogers Road and Hillside Drive
Route 6 – Route 6 would run from the intersection of Monroe Street and State Route 45-46 to Stadium Crossing Apartments via large concentrations of multifamily housing and IU. The route would cover portions of the current Routes 2 West, 1 North, and 6
Route 7 – Streamlined and extended version of the current Route 7 operating between downtown and Clear Creek Shopping Center via Walnut Street Pike. The route would cover portions of the current Routes 1 South, 4 South, and 7
Route 12 – Service from downtown to Walmart via Rockport Road and Tapp Road. The route would cover pieces of the current Routes 2 South and 4 West
Route 13 – Service from downtown to Knightridge Apartments via 3rd Street. The route would cover the majority of the current Route 3 East and serve College Mall as well as several large apartment complexes along Covenanter Drive
Route 14 – Service from Whitehall Crossing to Heatherwood Park via Orchard Glen Apartments, Aldi, and Walmart. The route would cover portions of current Routes 3 West and 4 West
Route 16 – Operating from Knightridge Apartments to downtown via the future hospital site and 10th Street. The route would cover segments of a variety of current services, most notably Routes 6 and 6 Limited
Route 18 – Service from the Sare Road corridor to the future hospital site via College Mall Road. The route would cover the majority of the current Route 8
Microtransit – Demand responsive microtransit, designed to serve relatively short trips not suitable for fixed route service, would operate within a zone in southwest Bloomington. The zone would consist primarily of areas currently served by Route 4 West and surroundings
Bloomington Transit – Scenario 2 Summary
Route 1 – Streamlined version of the current Route 1 North from downtown to Bloomington Meadows Hospital via College Avenue and Walnut Street
Route 2 – Streamlined version of the current Route 2 West, with service from downtown to Crescent Road and Bloomington Housing Authority properties. Would no longer serve Blair Avenue, Maple Street, Rogers Street, or 17th Street
Route 3 – Direct service from downtown to Orchard Glen Apartments via 3rd Street. The route would cover the majority of the current Route 3 East
Route 5 – Similar to the current Route 5, operating between Sare Road corridor and downtown. New route would operate on Highland Avenue/Maxwell Street in place of High Street between Rogers Road and Hillside Drive
Route 7 – Streamlined and extended version of the current Route 7 operating between downtown and Clear Creek Shopping Center via Walnut Street Pike. The route would cover portions of the current Routes 1 South, 4 South, and 7
Route 12 – Service from downtown to Walmart via Rockport Road and Tapp Road. The route would cover pieces of the current Routes 2 South and 4 West
Route 13 – Direct service from College Mall to downtown via 3rd Street, covering a portion of the current Route 3 East
Route 16 – Similar to current 6 Limited service, this route would operate between downtown and the future hospital site
Route 18 – Service from the Sare Road corridor to the future hospital site via College Mall Road. The route would cover the majority of the current Route 8
Route 30 – West side route providing service to Walmart, Aldi, Orchard Glen Apartments, and Whitehall Crossing. The route would cover portions of the current Route 3 West
Route 40 – West side circulator serving Basswood Apartments and Heatherwood Park via Leonard Springs Road and Bloomfield Road. The route would cover much of the current Route 4 West
Route 60 – East side circulator serving a similar alignment to Scenario 1 Route 6. The route would cover portions of the current Routes 2 West, 1 North, and 6, serving multifamily housing, downtown, IU, and Kroger
Route 70 – South side circulator covering areas of Winslow Road, Westminster Way, and Allendale Drive not served by proposed Routes 5 or 7. The route would cover portions of current Routes 1 South and 4 South
Route 80 – East side circulator connecting College mall, the future hospital site, and multiple large apartment complexes. The route would cover portions of several current routes